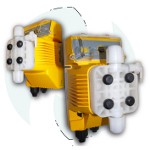 Electromagnetic Dosing Pumps
BL series with Level Control

Electromagnetic dosing pump with constant flow rate. Analogue double manually adjustable by control dial on the panel (0÷100% & 0÷20%).
Compare with series BX they have connection for level control probe to avoid dry run.
Compatible with the most chemical liquids in industrial works.
With only four (5) sizes that series of pumps can cover all flow rates from 0,4 to 110 l/h with an output pressure up to 20 Bar.
Also there is an economical model with PVDF-C head and a model for 12 Vdc power operation.
Models BL series